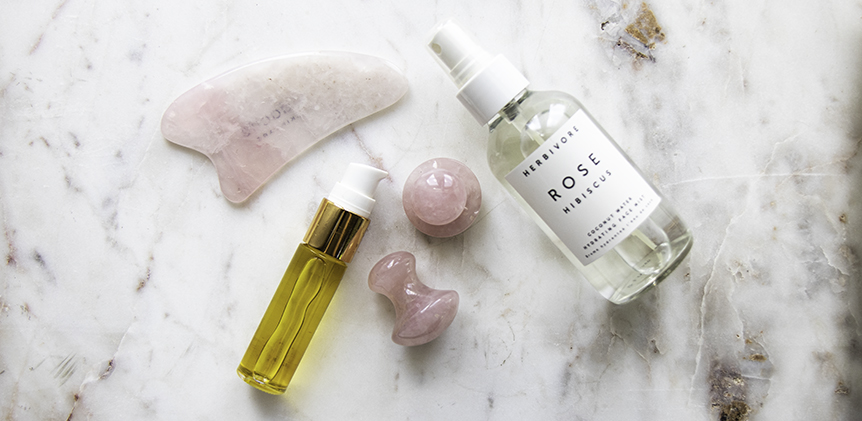 UPDATED MAY 2nd 2021
I think it's safe to say that Gua Sha has recently exploded on the beauty market, so I wanted to share a few thoughts and resources.
First, I want to stress the importance of investing in a high-quality tool bought from a trusted company.
Ever since writing my post on Gua Sha the Glow blog, I've been bombarded with emails from Chinese companies wanting to wholesale me their Gua Sha tools. 
Upon further research into these companies, I could not verify the quality of the stones or find any "real humans" behind the business, people who would talk to me, answer my questions and provide answers to my concerns about sustainability and best practices when it comes to mining crystals.
A high-quality Gua Sha stone is supposed to be made of real quartz or semi-precious stone but you'll likely find that the cheaper tools are made of plastic. We don't want that.
So, with the rise of this trend, I have concerns about quality and sustainability.
Stay tuned, I will be updating this post to include research on sustainable mining of crystals for Gua sha tools.
Move over, jade rollers; gua sha is stealing the spotlight.
Gua sha, a method of facial massage with crystal tools, has recently sprung up all over Instagram — but it's actually been around for thousands of years.
With origins in the ancient traditions of China and Southeast Asia, gua sha is a massage technique designed to relieve tension in the muscles of the face, boost blood circulation and encourage lymphatic drainage.
But, according to holistic estheticians who practice the art of gua sha, when done right, it can do so much more.
The Benefits of Gua Sha
Here are some of the many benefits of gua sha:
improves circulation
reduces wrinkles
rejuvenates, tones and smoothes the skin.
boosts collagen
combats pigmentation, dark circle and puffy eyes
defines jawlines
Gua sha is literally like massaging your way to healthier, glowier skin.
Personally, I'm interested in the toning, firming and brightening aspect of gua sha. I find that, at 49, my skin is not as toned as it used to be — which is natural, nothing to panic about. But I'm curious to see if gua sha will deliver on any of its long list of promises.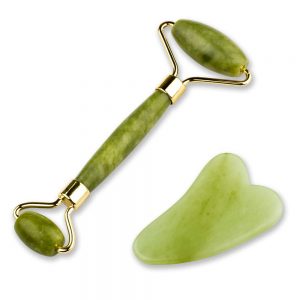 So, what's the difference between a gua sha tool and a jade roller?
Experts say that facial gua sha is more powerful than a roller because it's much more precise. When using a gua sha tool properly, you have more functions and uses depending on the edge you use and the pressure you apply.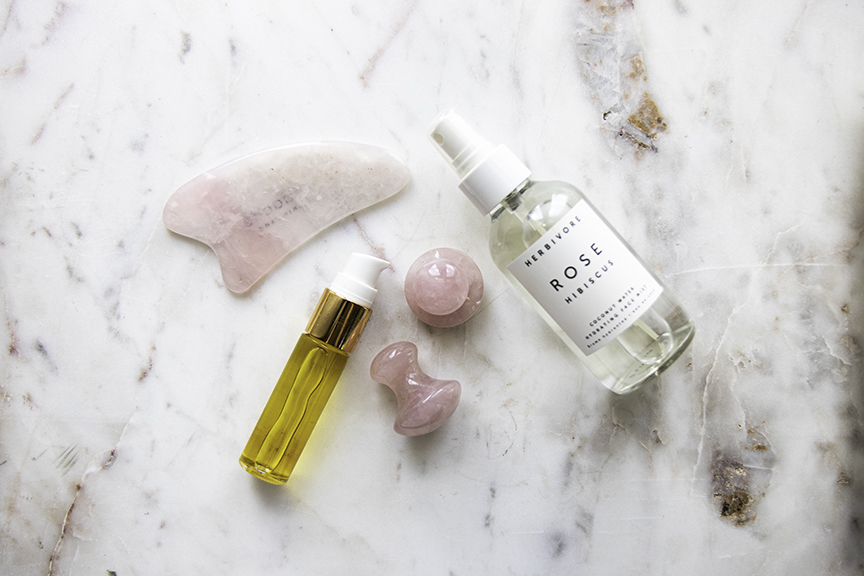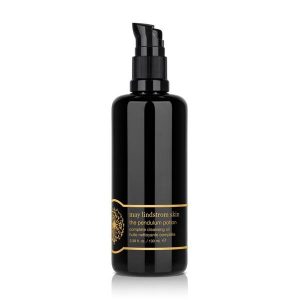 Step 1: Remove Makeup
First, clean skin is a must, so you'll want to remove your makeup.
To remove my makeup, I like to use May Lindstrom The Pendulum Potion.
Buy it on TheDetoxMarket.com/Pendulum (ship from the US) or on the Canadian site  TheDetoxMarket.ca/Pendulum (ship from Canada). It's yummy and luxurious and a little goes a long way. Plus, it'll leave your skin feeling soft and hydrated but not oily.
Step 2: Mist Yourself
Generously mist your neck and face with your favorite floral water. The floral water prepares your skin to drink the delicious oil that's coming next.
I have sensitive rosacea-prone skin, so I love an organic rose water that doesn't contain alcohol. I'm a bit of a floral water addict, and, since I'm stocked like an apothecary, I have one of every kind. So, I'll alternate between Witch hazel, Lavender and Rose.
I have to admit that I also fell madly in love with Maya Chia's The Optimist Hydrating Brightening Essence. It's really hydrating and smells divine.
Shop The Optimist on TheDetoxMarket.com or TheDetoxMarket.ca.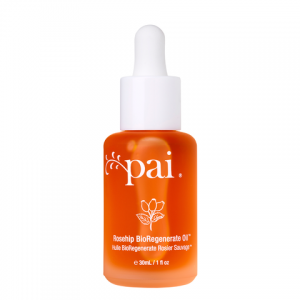 Step 3: Oil Yourself Up
Next, your skin is ready for an oil serum. Be generous with your oil, but don't overdo it. You want your gua sha tool to glide effortlessly but not slide out of control.
Being a green-beauty junkie, I possess more than a few serums. But, these days, I like to alternate among one of the Essential Radiance serums I share in this free guide. I crafted these potent serums with the intention to reduce inflammation, redness, and dehydration.
If you're not a DIY kinda gal, try Pai's Rosehip BioRegenerate Oil (ultra-softening formula) or Living Libations Best Skin Ever which contains organic Seabuckthorn, an antioxidant that balances your skin's pH and supports cellular turnover.

Now on to the good part… The gua sha tools.
There are now many tools available on the market but you'll want to shop smartly. Cheap gua sha tools have sprung up on the market and although they look real, they are covered in a coating of synthetic plastic to cut manufacturing costs. And Glowing Goddess, you do not want to gua sha with a plasticized tool, it's a recipe for disaster! #hellotoxicity #hellobreakouts
The best thing to do in my opinion is to shop through a trustworthy vendor, a company you know like and trust. Personally, I like to shop at thedetoxmarket.ca or thedetoxmarket.com. You'll see that most of the products I'm linking to in this post come from The Detox Market and that's because I've been shopping there for over 5 years, way before I became an affiliate. Side note, their customer service is amazing which is so important when you shop online.
I'm currently using Odacité's Crystal Contour Gua Sha Rose Quartz, but, on my wish list, I've added the Lanshin Pro which was created by gua sha pro Sandra Lanshin Chiu.
Angling the gua sha tool as close to parallel with your skin as possible (you don't want to dig the edge straight in like you're chopping), place the fingers of your free hand close to the tool's edge to provide some resistance, and then gently sweep the tool up and out toward the perimeter of your face.
At the end of each stroke, give the tool a little extra wiggle to help release the tension.
Repeat each stroke at least three times, concentrating on puff-prone areas, like the cheeks and under-eyes. The key is to be gentle, especially where the skin is thinner, like around the eyes.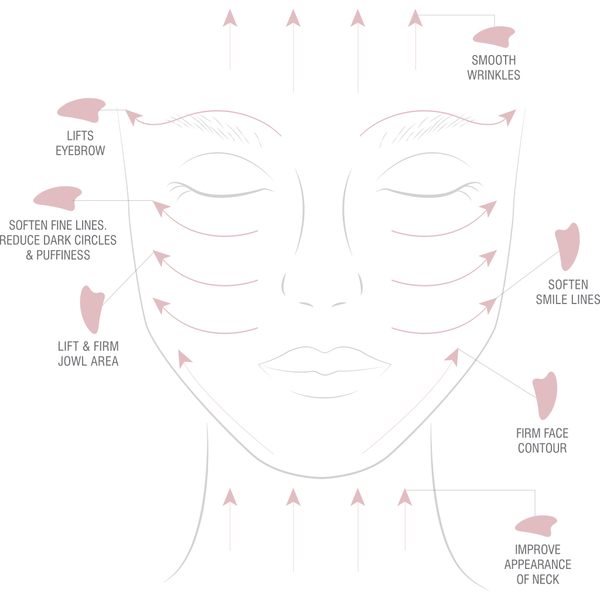 Since my journey to glow is all about healing my rosacea naturally and holistically, I researched to see if anyone was documenting the benefits or side effects of gua sha for rosacea.
As you know, going down the Google rabbit hole means you'll find contradictory information. So, as always, you'll have to use your judgment and listen to your intuition once you've done your own research.
If you find science-backed articles, please share! I will add them to this article.
Here's what I found on gua sha and rosacea…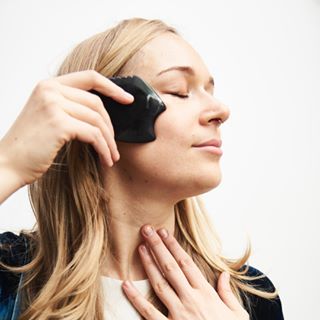 In a recent Vogue article, Britta Plug was quoted saying that she "has been using gua sha tools in her holistic facial practice for years, helping clients relieve nearly every skin condition from rosacea to dryness and adult acne." She says, "With this type of treatment, we're moving lymph, which carries away toxins or, in this case, blackheads, and stimulating the chi or prana."
However, she advises against gua sha for anyone with inflamed skin (a.k.a. those with acne, rosacea, or sunburn). Likewise, she recommends that sensitive skin types and those prone to breakouts stick to less intense roller massages or seek out a pro to get personalized instructions for how to treat their skin properly with gua sha.
I've also heard Britta say in one of her tutorials on Instagram that it's best to avoid areas with inflamed cystic acne, which is common sense really.
Intuitively, I have a feeling that gua sha would help relieve redness and stuck energy, which, for me, is on my cheeks. However, I would not gua sha on areas where my rosacea was unusually inflamed. Again, it's common sense.
A Chinese Medicine Approach To Gua Sha For Rosacea
One of the more interesting articles I found on gua sha and rosacea was written by Diana Hermann, owner of Zizai Dermatology, a Chinese medicine clinic specializing in skin conditions such as acne, rosacea, psoriasis, and eczema.
In her article, Diana Hermann, a licensed acupuncturist and board-certified Chinese Herbal Medicine practitioner, explains that, when the technique of gua sha is used on the face, a much lighter pressure is applied than on the body to not raise the "sha" (the redness that appears when you gua sha the body vigorously).
The skin on our face is much more delicate and has more capillaries than elsewhere on the body, so there's a greater risk of bruising, which we obviously want to avoid, especially with sensitive, rosacea-prone skin.
When performed correctly, facial gua sha is said to have wonderful, lasting benefits for the face and complexion such as reducing redness, inflammation, and blemishes.
Skin Types That Should Steer Clear of Gua Sha
Anyone with dermatitis or easily irritated, hyper-sensitive skin should be careful with gua sha, such as those who often break out in rashes or dermatitis-like skin irritation as a result of using new products or from their skin being touched or massaged.
Is Gua Sha Appropriate If You Have Acne, Eczema, Dermatitis Or Psoriasis?
If your skin is currently reactive — if you have dermatitis, eczema, inflamed acne or psoriasis on your face — it is recommended to wait until the skin is brought into a more stable state before trying gua sha.
Also, people who have had fillers or botox should wait at least three months after their procedure to do facial gua sha on those areas where they received injections. They can do gua sha on other areas, or at least the neck. Releasing the neck is essential for facial work and can even help to create change and improve skin health.
As with any skin care, you'll want to be mindful of doing a little research or at least watch a few videos so that you know what you're doing to avoid damaging or bruising the skin. Also, make sure you're learning from trustworthy experts who've been using gua sha tools effectively and can guide you on how to gua sha safely.
I'm following Britta Plug, the creator of the Lanshin Pro, Sandra Lanshin Chiu and Cecily Braden. Cecily is definitely one to follow as she's an American Spa Finalist, the originator of Gua Sha Facial Fusion, an expert in herbal poultice facial and a Gua Sha tool designer. 
My 30-Day Gua Sha Challenge
I'm doing a 30-day gua sha challenge so that I can see if it makes a difference for my skin. As I shared before, I'd like to see an improvement in toning, luminosity and I'm curious to see if it'll help my rosacea. I'm not expecting a miracle but I'm open and curious.
To document my journey, I'm taking before and after photos and notes of the improvements I see.
I'll be testing it for 30-days straight, and I'll be back to report the results. Stay tuned!
Caroline, XO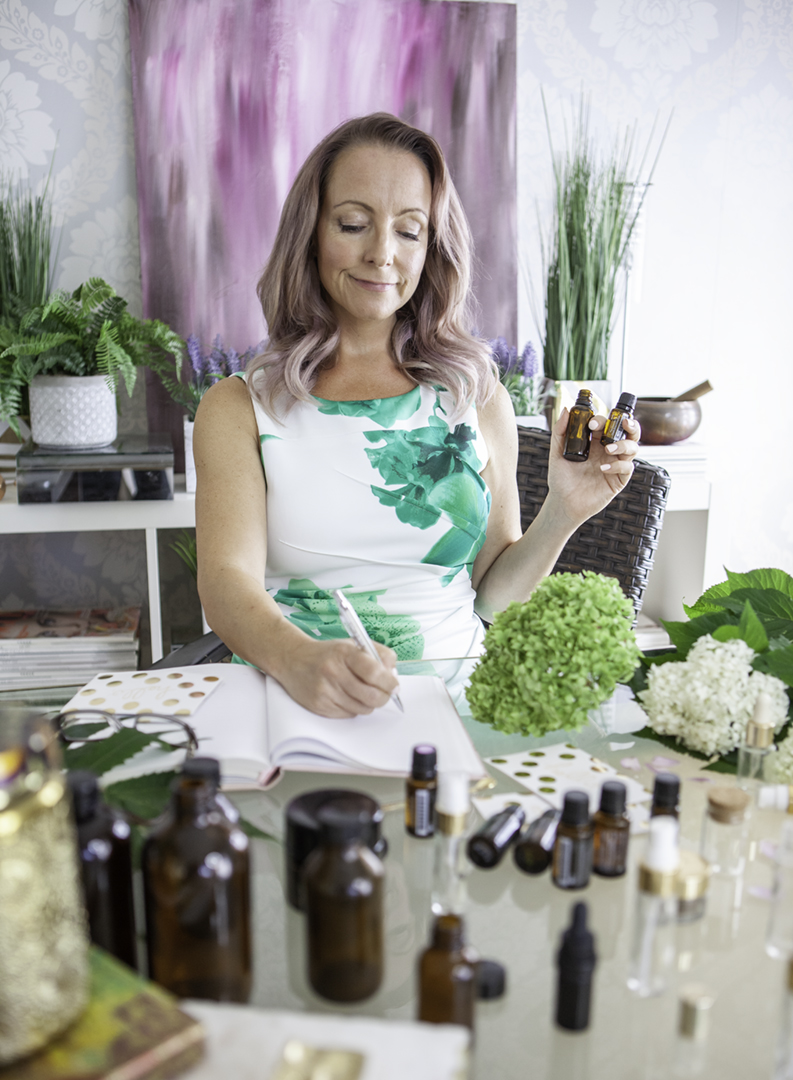 As a green-beauty junkie, it's been my mission to find non-toxic, natural products that are high performing AND fit my skin's unique needs.
After spending thousands of dollars on products but not seeing improvement with my skin, I started researching essential oils.
I discovered 5 that targeted my skin's dehydration and inflammation, so I immediately put them to the test.
After 2 weeks of testing my own concoctions made of 100% certified pure essential oils, I noticed a huge improvement on the texture and hydration of my skin. 
My 30-Day Celery Juice Challenge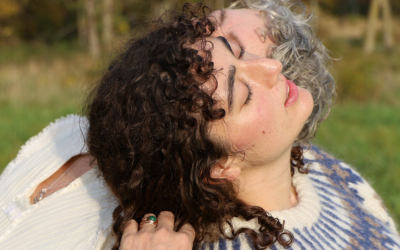 JTG #69 Farm To Skin Skincare With Aviva Skye Tilson Founder Apis ApothecaJTG #69 Farm To Skin Skincare With Aviva Skye Tilson Founder Apis ApothecaIn this episode, I talk to  Aviva Skye Tilson, the creator of a farm-to-bottle skincare line called Apis Apotheca. About...
read more
The Glowletter
Get the best of Journey To Glow delivered straight to your inbox!
Delicious skin nourishing recipes, the best in clean beauty, upcoming skin detoxes & challenges, tips from holistic skin experts and real women stories to inspire you on your journey to glow!