Purchase doTERRA essential oils at 25% off
Natural & holistic solutions for you & your family
Open Your Account & Get 25% Off
Ready to get your hands on the essential radiance oils at 25% off? On this page I'll take you through the simple steps to open your wholesale account with doTERRA.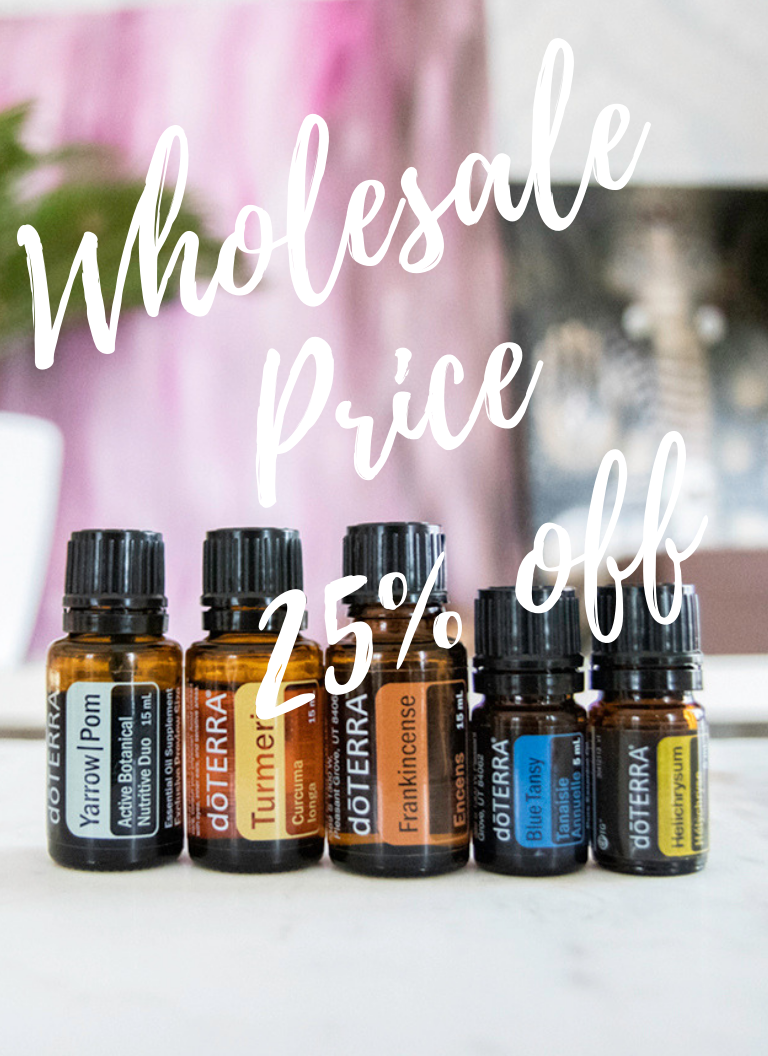 Free Essential Oils Resources
I know that bringing essential oils into your home can be overwhelming. 
That's why when you join our doTERRA family, you get access to an incredible library of resources to support you on your healthy, non-toxic lifestyle.
In this library (available ONLY to our members) you'll find educational videos and resources on how to use essential oils safely, make your own DYI products, simple switches to enhance your family's health and well being, and so much more.
2 options to open your doTERRA account and get 25% off all products
Option #1 Buy an enrollment kit
When you open your wholesale account and purchase an Enrolment Kit (see options below) your yearly membership fee of $35 USD is waived.
I suggest the Healthy Start or the Nature's Solutions Kit.
The advantage of selecting a kit is that you'll get a bundle of oils at a fraction of the price. Plus, the kit comes with a beautiful diffuser.
Option #2
Select only the oils you'd like to purchase + pay your 35$ USD membership fee (or the equivalent in your currency).
CLICK TO DISCOVER WHICH ENROLLMENT KITS ARE AVAILABLE TO YOU
CAN | USA | EUROPE | AUSTRALIA | NEW ZEALAND
*If you're ordering from Asia, Central or South America please contact me so I can guide you.
Click this link: mydoterra.com/carolinedaliafrenette/#/joinAndSave
Click on Becoming A Member in the upper right hand menu
Choose your country and language
Choose Wholesale Customer
(Should you wish to become a Wellness Advocate in the future, reach out  and we'll change your account.)
Enter your personal information. (You do not need to include your tax information as a wholesale customer, so please skip this step.)
At *Enroller id*, enter my number: 6410867 then click verify (it will show you my name Caroline Dalia Frenette)
Choose your password
Click over to the next page
Select the kit you'd like to order. If you just want to start with a couple of oils instead of a kit, start typing the name of the oil in the box and it will appear for you to select it. Be sure to select the $35 introductory packet if you're not enrolling with a kit. Purchasing a kit waives this enrollment fee.
Enter your Credit Card details and process your order.
And voilà, welcome to the doTERRA family!
Frequently Asked Questions
"I'm interested in purchasing essential oils but don't want to be a Wellness Advocate. Can I just open a customer account to get 25% off?"
Most people who are using doEARRA essential oils are wholesale customers.
There is NEVER any pressure for you to sell the oils. In fact, this is not what's it's about. This is about switching to a more natural lifestyle. Opening your wholesale account means your getting extra perks like getting 25% off, earning points on every purchase (can you say FREE OILS?!) and gaining access to our library of educational resources to support you on your journey to glow.
"How are doTERRA essential oils different than other brands? Why are their prices higher than other brands?"
Essential oils are becoming increasingly popular all over the world. This has resulted in "essential oils" being sold in grocery stores, drug stores, clothing stores, and even gas stations.
What many people don't know is that there are no regulations for the essential oil industry. Companies are legally able to label bottles as 100% pure even if there are chemical additives, synthetics, and fillers in the bottle.
Ever heard of greenwashing? We talk about this topic A LOT on the Journey to Glow podcast but basically, this is when companies trick their customers into believing that a product is safe or natural or "green" by using unethical marketing tactics.
And friend, greenwashing is everywhere.
If you want to dive into the topic and learn more about the importance of using TRULY PURE essential oils and what to look for in a brand, the intro to this podcast episode covers it. In this episode, I'm talking about a brand who is shamelessly selling essential oils at impossibly low prices.
Hear me, friend: IT NOT NOT POSSIBLE FOR BLUE TANSY, FRANKINCENSE AND LEMON ESSENTIAL OIL TO BE THE SAME PRICE. ***This alone should be a red flag.***
Unfortunately, because of the popularity of essential oils, the industry has become the wild wild west. Working with adulterated essential oils is dangerous to our health and frankly, I'm not willing to save a few bucks and risk the health of my family.
This is why it's incredibly important that you purchase oils from a reliable company.
Before purchasing my first set of essential oils, I went down the rabbit hole of researching what makes an essential oil pure and EFFECTIVE, and what to look for in terms of quality and purity.
I compared sourcing methods, testing, purity and company values, and doTERRA constantly ranked number one in all these categories.
So it was a no brainer for me to choose doTERRA since I'm actually looking to work with essential oils that provide healing and transformation and for that, you need pure, therapeutic grade essential oils that contain active chemical compounds.
Send us an email at hello@journeytoglow.com and we'll promptly respond. If you don't hear back from us within 48 hours, please check your junk or "OTHER" folder, especially if you are a gmail or hotmail user.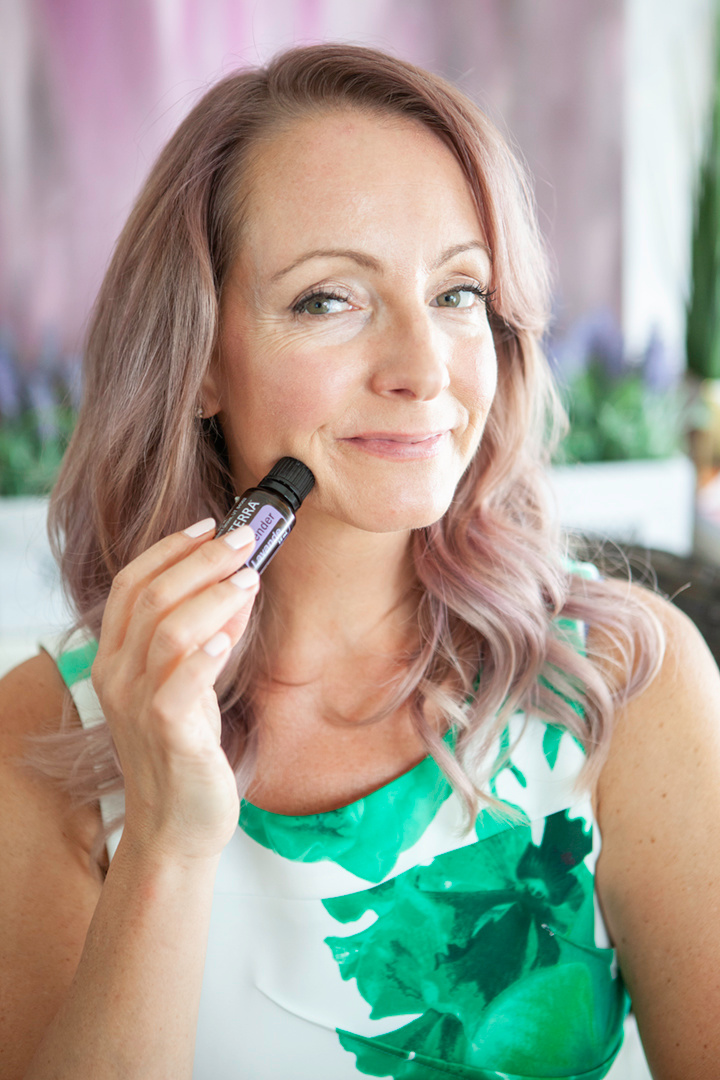 The Essential Oils For Skincare Masterclass
A 75-minute video masterclass on how to use essential oils safely and effectively for skincare and skin conditions.
We cover topics such as how to use essential oils safely, the best carrier oils, how to use essential oils for acne, eczema, psoriasis, sensitive and rosacea-prone skin, shopping resources (books, courses, bottles, bags…) and favorite blends & recipes!