I launched my own botanical skincare line a few years ago after struggling to find safe and effective skincare products for rosacea and Demodex mites.
You can learn more about the "why" behind my skincare line for rosacea and my journey into becoming a Skin Herbalist here. And, as a reminder, I also have a new website called healrosaceanaturally.com. Lots of free resources and articles if you're looking for natural and holistic solutions to heal rosacea.
In this article, I want to share tips + videos I made on how to best use the Radiantly Clear Rosacea / Demodex Botanical Skincare System.
How To Use The Rosacea Demodex Skincare System
5-Step Rosacea / Demodex Botanical Skincare System
I know that it can be hard to remain optimistic with an "uncurable" rosacea diagnosis (please read here my take on this and the difference between "healable" and curable) but in order to heal your skin, you need to stay optimistic and anchored in possibility.
Turning your skincare into a healing ritual is one way you can shift your thoughts and energy, and intentionally focus on your skin becoming clear and healthy.
How to turn your skincare into a ritual filled with healing intention:
Light a candle or play your favourite music
Breathe deeply & centre yourself
Massage your skin with intention and love
Turn negative self-talk into positive kind words
Feel free to repeat your own mantra such as: "My skin is beautiful, I am beautiful"
Use pure botanical skincare crafted with potent plant medicine, your skin will thank you!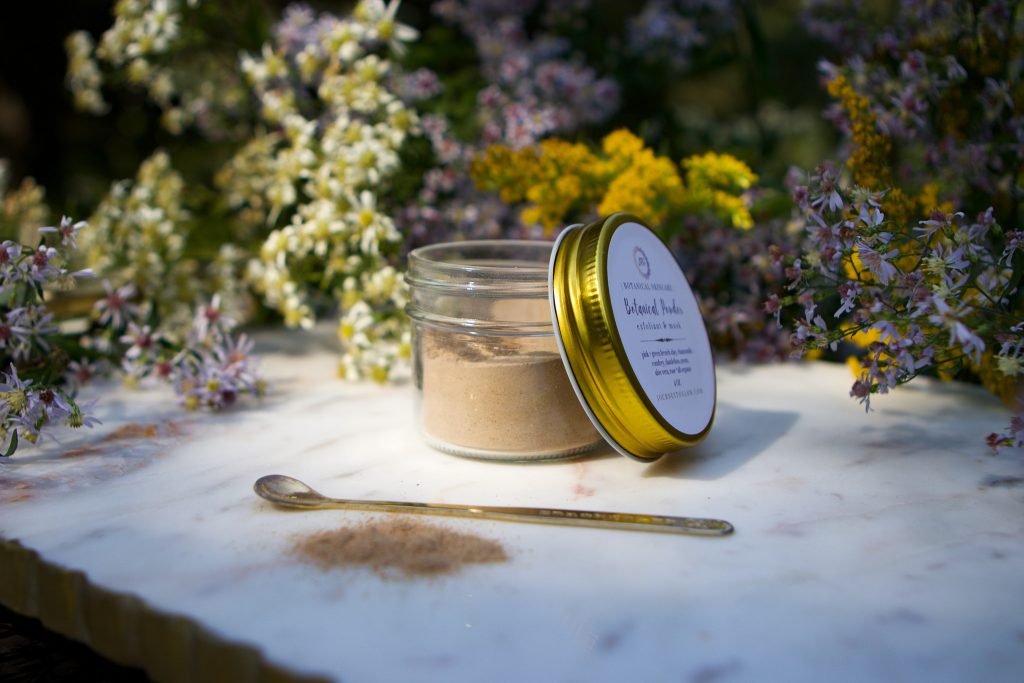 Step 1: Botanical Cleansing & Exfoliating Powder
Use the Botanical Exfoliating Powder 2 to 3 times a week. If you currently have Demodex or rosacea breakouts, use the Botanical Exfoliating Powder daily as a mask but do not over-exfoliate, gently pat the powder mixture and press into your skin. Once your skin is back in balance, use it once a week or when your skin needs a gentle exfoliation.
HOW TO USE:
Add about a teaspoon of powder in the palm of your hands and spritz a bit of hydrosol or purified water until you have a consistency that's easy to apply to your face. You can also mix the powder with honey to make a mask.
See video below for more info.
If your skin is very inflamed, gently pat the powder mix on your face, leaving it on for a few minutes so the beautiful botanicals can get to work. If you feel like your skin could benefit from deeper exfoliation, massage the powder gently.
Rinse abundantly with lukewarm water.
If your skin is too inflamed or reacts to the powder, wait to use it once your skin is calmer.
The main benefits customers report: fewer Demodex breakouts, tighter pores, a clearer complexion, fading of dark spots, and faster healing of scars.
Shop Exfoliating Powder for rosacea
A NOTE ON WASHING YOUR FACE
When healing rosacea, overwashing your face can be damaging to the skin barrier. Some days, it will be enough to rinse your face with lukewarm water, followed by spritzing the Soothing Flower Water.
Avoid foaming agents and harsh cleansers as they will damage your skin microbiome.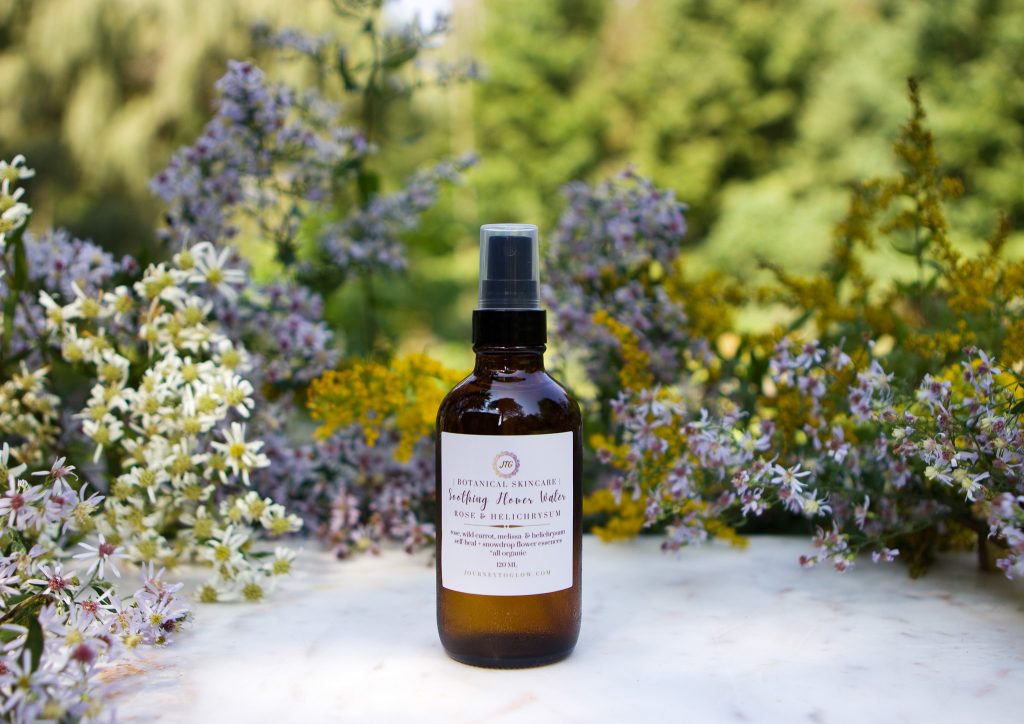 Step 2: Soothing Flower Water
On a clean face, spritz the Soothing Flower Water (hydrosol) abundantly on your face. Inhale deeply, it smells divine! Allow to dry before applying the serum. Feel free to mist over your face oil and press the pure flower water onto your skin for extra hydration.
You may also spritz the Flower Water over your makeup to "set it" or use it throughout the day to calm and soothe your skin.
Tip: Leave a little in the frig: the cool Flower Water feels divine when used on hot summer days!
Hydrosols help balance the skin's PH, essential with fragilized skin barrier, which is the case in rosacea.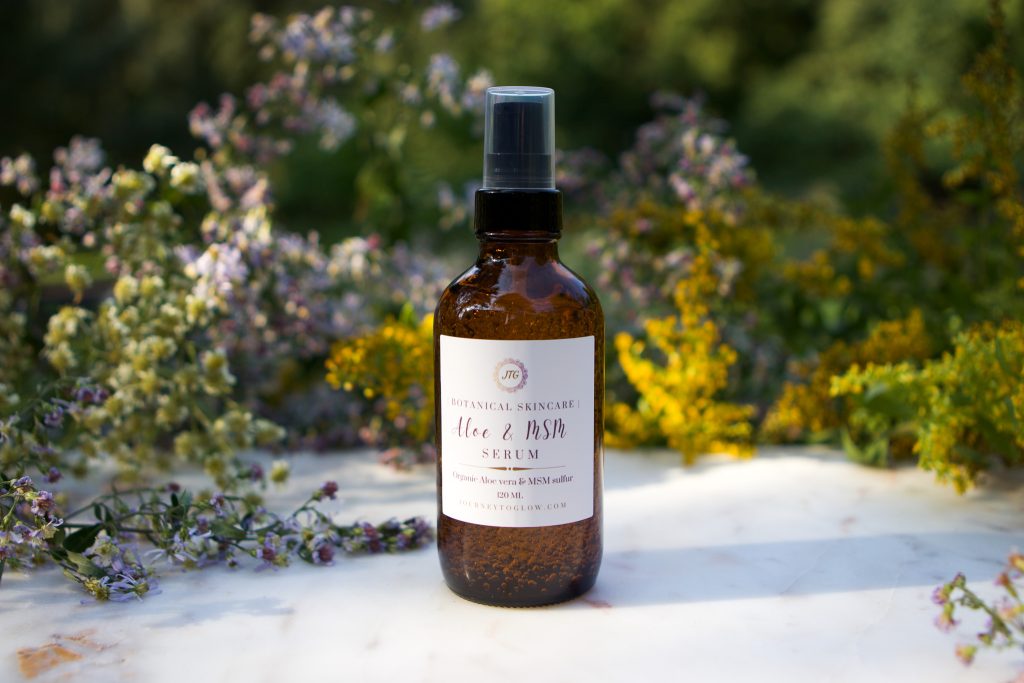 Step 3: Aloe Vera & MSM Sulfur Serum
Apply half a pump of Aloe Vera & MSM Serum to your face or blend half a teaspoon of the Aloe MSM Serum with 6 drops of Radiantly Clear Face Oil and gently massage onto your skin.
There are numerous studies that show the benefits of taking MSM as a supplement but lately, it has been used in skincare for several of its topical benefits such as:
• Smoother skin through the reduction of fine lines and wrinkles
• Improved skin texture and elasticity
• Support the collagen-building blocks of skin and keratin
From JAAD (Journal of the American Academy of Dermatology): "Sulphur has also been shown to kill Demodex mites, which have been implicated as a possible causative factor in rosacea." More on Demodex mites in this blog article.
Skin Herbalist tip: The natural enzymes found in aloe vera help get rid of dead skin cells. Also, aloe penetrates deeper into the epidermis when paired with vitamin E. The Radiantly Clear Face Oil contains an organic Jojoba carrier oil and guess what: jojoba naturally contains vitamin E! So pair both to maximise your rosacea skincare routine and for a beautiful glowing complexion!
Shop Aloe Vera & MSM Sulphur Serum for rosacea and Demodex mites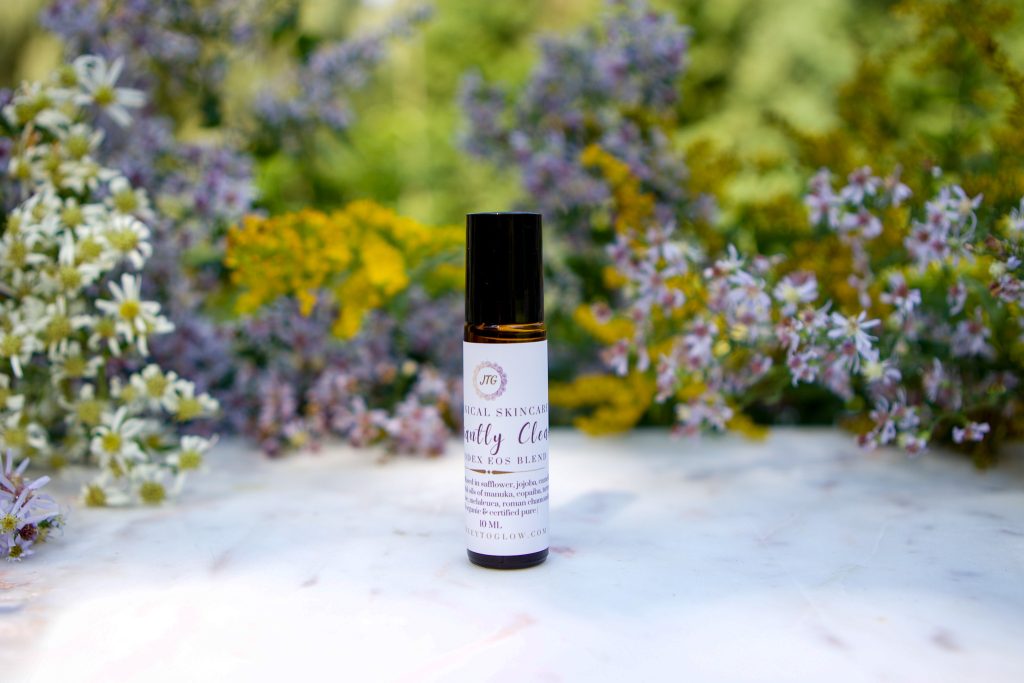 Step 4: Radiantly Clear Demodex Essential Oil Blend
Apply directly on breakouts or areas of concern. Massage until fully absorbed. You can use this oil every morning and evening or use when needed.
This roll-on was formulated with a powerful, effective, yet gentle blend of essential oils + carrier oils that target breakouts, inflammation, redness and Demodex mites. 
We carefully formulated this blend with effective essential oils for rosacea and Demodex mites keeping top of mind that rosacea skin often comes with a compromised skin barrier.
*If your skin is sensitive to essential oils, please patch test first.
Shop Radiantly Clear Demodex Essential Oil Blend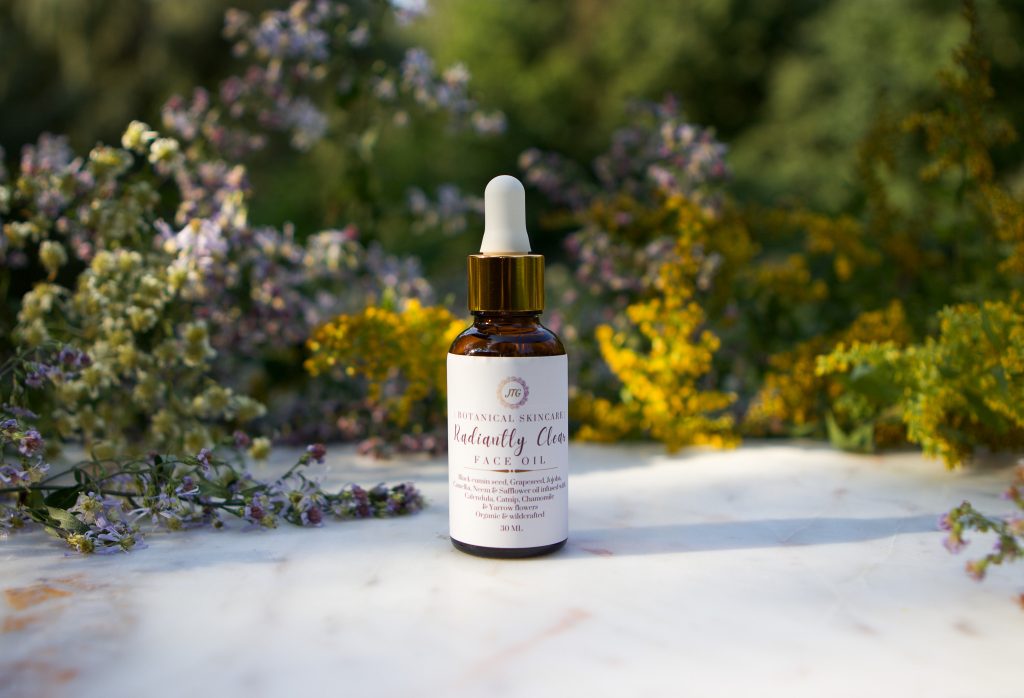 Step 5: Radiantly Clear Face Oil
Apply 6 to 8 drops on clean skin or mix with half a pump of Aloe & MSM. Smile, your skin is glowing!
The carrier oils used in The Radiantly Clear Rosacea Face Oil are well known for their anti-inflammatory and antibacterial properties.
The formula deeply penetrates, leaving your skin feeling nourished and hydrated.
The Radiantly Clear Rosacea Face Oil does NOT contain essential oils, so it is safe to use if your skin is sensitized.
Customers report their skin feeling softer, pores tighter, less breakouts and skin feeling nourished.
Shop The Radiantly Clear Rosacea Face Oil