Our Green Beauty Junkies 
Recommend
Our Favorite Clean, Nontoxic & Organic Skincare Products
Our Favorite Clean, Nontoxic & Organic Skincare Products
You've asked me to share what my favorite clean, non-toxic, organic skincare products are… Happy to!
But first, here's what you need to know…
As a green-beauty junkie with sensitive, rosacea-prone skin, my criteria for selecting the products that are featured on this page is very specific. Not any 'ol "green" product will do.
Products that make it on this page need to be:
High performance
If products don't deliver on their promise, they don't deserve my hard earned cash. We know too many cult products that were elevated to star status thanks to a smart PR team who gave said products to key influencers when really, these products are more hype than substance. I've tried some of these cults products and was severely disappointed. These products are NOT on this page. Although I am an affiliate and may make a small commission should you wish to use my affiliate link (and thank you, it pays for my time writing all the free content you see on Journey To Glow) , I will only share products I've tested and love.
Contain a majority of organic ingredients
If the ingredients are not 100% organic, the company needs to justify why and the reason needs to make sense. For example, one of my favorite Rose hydrosols is made right here in Quebec from a company that I know, like and trust. This company sources their ingredients locally but they're still waiting on their official organic certification. Personally, I'm ok purchasing this hydrosol even though it doesn't have the official organic label because I trust the company and I did my research.
Rank Green
Rank "green" in the Skin Deep database meaning, they are non-toxic. The EWG.org Skin Deep database is a great resource, you should bookmark their page.
Made Safe
They are certified Made Safe. Another great resource to help you make informed choices.
Let's shop!
Disclaimer
These are some of my favorite products that I've researched and/or personally tested. As always, please do your own research before purchasing skincare products to make sure that they are the right fit for your skin.
Some of the links on this page are affiliate links which means that I may get a small commission from your purchase. (This does not increase the price of the products.) If you're a long time listener of the Journey To Glow podcast you know that I only ever recommend products that I personally use and love. Thank you!
Pai Light Work Rosehip Cleansing Oil I love this product because it removes all traces of mak-up gently yet effectively and it doesn't strip or irritate the skin.
Why I love it: Pai knows how to craft cleansers for sensitive skin and this one is no exception.
You'll love it for: Its subtle Jasmine and geranium smell.
May Lindstrom The Pendulum Potion A sensory feast of antioxidant-rich goodness cushions and lovingly cleanses the skin, effortlessly melting away makeup and environmental debris while softening and clearing congestion and dullness.
Why I love it: Macadamia, Tamanu, Camellia, Avocado, and Cacao are only a few of the key ingredients that make this cleanser potent and effective.
You'll love it if: You like formulas that pack a tonne of goodness so you only need a few drops to get the job done.
Living Libations Seabuckthorn Best Skin Ever is a great all-in-one product for all skin types. Use it as a daily cleanser, with a cloth for weekly exfoliation, or as a moisturizer for extra hydration. Ingredients like Seabuckthorn are bioavailable, meaning they are able to sink deep into the lipid layer of the skin, bringing antioxidants, omegas, and fatty acids to dull tissue. Great for balancing your skin's pH and supporting cellular turnover!
Why I love it: It deeply cleanses but doesn't leave a thick oily film, the formula is really well balanced.
You'll love it if: You want to try an oil cleanser that feels light and non-greasy.
Josh Rosebrook Complte Moisture Cleanser A delicate union of argan and jojoba oils combine with aloe vera, calendula, turmeric, and licorice in this lightly lathering face cleanser. Rich in antioxidants, the gentle formula comforts all skin types, including sensitive, restoring moisture, and leaving behind a velvety soft complexion. The pH-balanced cleanser boasts a creamy texture and a light, fresh scent that makes it a pleasure to use.
Why I love it: It leaves my skin feeling clean and hydrated.
You'll love it if: You want a gentle cleanser that's not oil-based, it won't leave an "oily" film on your skin.
Tata Harper Regenerating Cleanser Like a daily reset for your skin, this gentle exfoliating cleanser purifies, hydrates, and refines, leaving behind balanced and supple skin glowing with moisture. Fresh enzymes, rose clay, and botanical oils join microspherical beads to clear the skin of impurities and reduce the appearance of pores. Plant-powered ingredients like aloe, apricot, rice, and willow bark work synergistically to nourish the skin on the deepest levels, cultivating a radiant luminosity.
Why I love it: It exfoliates gently without aggravating my rosacea.
You'll love it for: It's flowery, herby smell the way only Tata can formulate.
Odacité Jojoba Beads Exfoliant Tough enough to remove dead skin cells, but gentle enough not to harm the skin, Jojoba Beads Exfoliant helps to clear and minimize the appearance of pores. Prepares your skin to better absorb all the benefits of your skincare products. Regular exfoliation is key, whether you have aging, acne-prone, dry, mature, oily, and combination skin.
Why I love it: It exfoliates effectively but gently which is key for sensitive skin.
You'll love for: It's creamy texture and fresh smell.
Pai Kukui & Jojoba Bead Skin Brightening Exfoliator (now called Virtuous Circle)marks an innovative and ultra-gentle approach to exfoliation. Perfectly cylindrical 100% natural Jojoba Beads gently roll over skin, lifting away dead skin cells and surface impurities as they go. Enriched with exotic oils, the nourishing gel formula transforms into a silky milk, washing away to leave skin refreshed and radiant. High concentrations of Omega 3 & 6 plus Vitamins A, D & E instantly hydrate and soften your bright new complexion.
Why I love it: Unlike other exfoliators whose uneven grains can damage and irritate healthy skin, Pai's clever Micro-Sphere system is formulated to protect as it polishes.
You'll love it because: It's ideal for sensitive and problem skin, including skin prone to redness, eczema and acne.
Shiva Rose's Saffron Rose Facial Scrub is a gentle, yet effective exfoliant for all skin types. Chickpea flour used by the brides of India to create flawless skin before their nuptial day is blended with sacred sandalwood powder, dried organic rose buds, saffron threads, coconut milk powder, orange peel powder for dark spots, and a few drops of sandalwood essential oil.
Why I love it: Orange Peel will heal breakouts, scars and inflammation while the sandalwood shrinks pores and strengthens firmness in the skin.
You'll love it because: Saffron brightens the skin and improve blood flow to the skin, while the fat of the anti-aging coconut milk is rich in vitamins C, K, protein, and copper.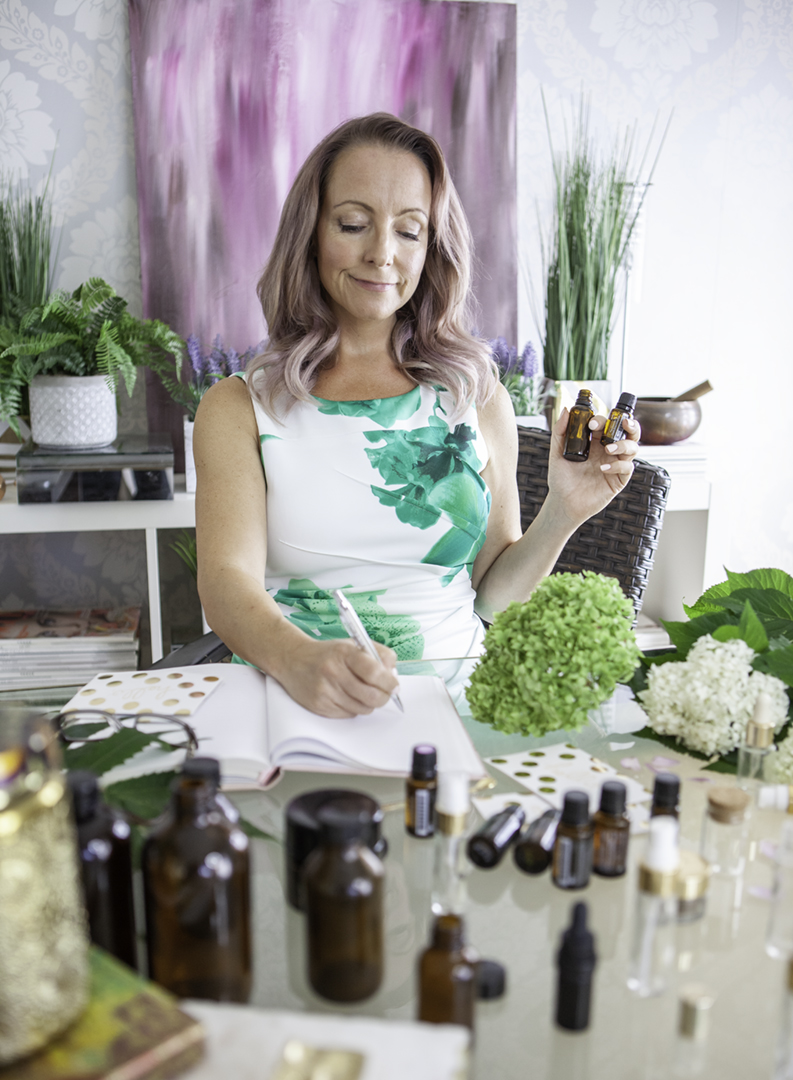 Essential Radiance: My Top 5 Essential Oils For Radiant Skin
As a green-beauty junkie, I've been on a my mission to find non-toxic, natural products that are high performing AND fit my skin's unique needs.
After spending thousands of dollars on products but not seeing improvement with my skin, I started researching essential oils.
I discovered 5 that targeted my skin's dehydration and inflammation, so I immediately put them to the test.
After 2 weeks of testing 100% certified pure essential oils, I noticed a huge improvement on the texture and hydration of my skin. 
Pai Sea Aster & Wild Oat Instant Calm Redness Serum (now called Instant Kalmer) has been expertly formulated to support skin prone to irritation and hypersensitivity. Ultra calming Sea Aster actively inhibits the molecules that cause the skin to flare and strengthens surface blood vessels helping to alleviate redness. The natural anti-histamine and anti-inflammatory properties of Wild Oat work to repair damaged skin while Hyaluronic Acid intensively hydrates skin to help maintain tone and suppleness.
Why I love it: Super concentrated but without the irritation usually associated with more active products, this Serum is especially suited to distressed skin in need of extra care.
You'll love it if: You want to calm redness and irritation.
Laurel's Antioxidant Facial Serum is an ideal moisturizer and anti-aging serum for all skin types. It features a whole plant blend of Gotu Kola, Comfrey, Calendula, Nettle, and Rosehip Oil that stimulate collagen production, reduce sun damage, and encourage healthy cell reproduction.
Why I love it: : Frankincense, Rose, Neroli, Sandalwood, Myrrh, and Jasmine nourish and plump.
You'll love it for: Its luxurious, floral, green blend of organic and therapeutic grade essential oils that restore the skin.
Maya Chia The Super Couple This synergistic elixir is as nourishing as it is glow-inducing. Superfood chia combines with super antioxidant astaxanthin in this potent blend, brimming with wildcrafted botanicals.
Why I love it: Its infused with Roman chamomile, frankincense, jasmine, and myrrh, the lightweight formula delivers softness and luminosity to all skin types—even the most sensitive.
You'll love it because: It's potent and smells divine!
Tata Harper Rejuvenating Serum This award-winning, best-selling multitasking collagen treatment addresses multiple of aging by delivering the benefits of 7 antiaging products in one serum. Promotes a firm, youthful look, while supporting elasticity and helping to protect the skin from environmental damage.
Why I love it: It's a concentrated formula of powerfully rejuvenating ingredients helps to reduce the look of fine lines and deep wrinkles while infusing the skin with Hyaluronic Acid, antioxidants and vitamins for a visibly healthier, more radiant appearance.
You'll love it because: Tata Harper formulates skincare like no other, you can really smell the plants and flowers and feel the potency on your skin.
Tata Harper Restorative Eye Cream: Revitalize your eyes with this effective multitasking cream, designed to transform your eye area to its brightest and most youthful-looking.
Why I love it: Formulated with botanical ingredients including aloe, gotu kola, arnica, daffodil, and calendula, this decadent treatment addresses dark circles, puffiness, dryness, and fine lines for a rejuvenated look.
You'll love it because: It's rich without being greasy, this is a great choice to wear under makeup.
Laurel's Eye Balm is rich and gentle. All plants were carefully chosen to address fine lines, puffiness, and dark circles. This balm features a whole plant blend of Bilberry, Fennel, Licorice, and Nettle to reduce puffiness, inflammation, fluid retention, and dark circles. An indulgent, exotic, floral blend of organic and therapeutic grade essential oils of Lavender.
Why I love it: : Frankincense, Rose, Neroli, Sandalwood, Myrrh, and Jasmine nourish and plump.
You'll love it for: It's Bergamot, Sandalwood, Myrrh, and Helichrysum included to soothe and brighten eyes.
Living Libations The All Seeing Eye Creme is a powerhouse of nourishing essences that treat dryness and reduce the appearance of fine lines and wrinkles around the eyes. Jojoba Oil, Tamanu Oil and Aloe Vera are easily absorbed into the skin to hydrate while Rosewater acts as an astringent that cools and regulates the delicate area.
Why I love it: It's a great base to start with before applying concealer or foundation.
You'll love it because: It soothes inflammation and puffiness.
Goop Perfecting Eye Cream The Perfecting Eye Cream deeply hydrates, soothes, and firms the delicate eye area, visibly reducing the appearance of fine lines and wrinkles.
Why I love it: Formulated with olive butter, sandalwood nut oil, and powerful peptides, this high-tech formula delivers immediate and ongoing results.
You'll love it because: It increases elasticity and plumps skin for a more youthful appearance.
Pai Chamomile & Rosehip Calming Day Cream Like a gentle hug for reactive skin types, this ultra-soothing day cream calms and nourishes even the most sensitive complexions.
Why I love it: Bursting with antioxidant-rich chamomile and rosehip, plus omegas 3, 6, 7, and 9, the formula works to visibly reduce the appearance of redness and agitation.
You'll love it because: The silky texture absorbs quickly, delivering hydration and baby-soft skin.
Josh Rosebrook Tinted Nutrien Day Cream SPF 30 Hydrate and protect your skin all at once with this antioxidant-rich tinted moisturizer, packed with bilberry, rosehip, seabuckthorn, borage, and marshmallow for deep nourishment.
Why I love it: Designed with all skin types in mind, this color-adjusting formula supports the appearance of an even skin tone, and looks equally wonderful when worn alone or as a smoothing primer before makeup.
You'll love it because: Zinc oxide shields skin from the sun with SPF 30, while the lightweight, fast-absorbing texture sinks in quickly for a grease-free glow.
The Glowletter
Get the best of Journey To Glow delivered straight to your inbox!
Delicious skin nourishing recipes, the best in clean beauty, upcoming skin detoxes & challenges, tips from holistic skin experts and real women stories to inspire you on your journey to glow!